VIOS 3D (Stick 4D)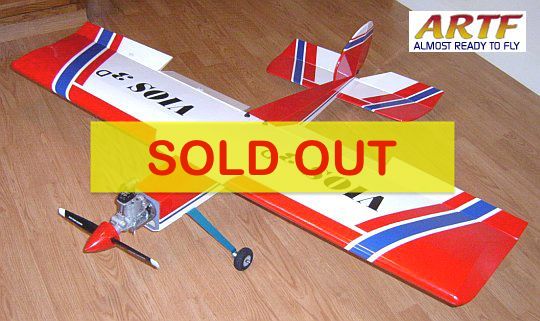 57"
4-5 lbs.
52"



.32 - .40 2 Stroke
.52 4 Stroke

4 - 8 Channel
5 - 7 Servos
This Vios 3D is based on the popular Stick. The Vios comes ready to accept 2c or 4c glow engines or the newest electric brushless motors. Our skilled engineers were able, with the help of the latest laser cut technology, to reduce the weight of this airplane so it can be flown with the latest brushless motors. With its large control surfaces you can perform all 3D maneuvers. It snaps on the spot, waterfalls, harrier - you name it! The Vios 3D is made for the 3D challenger. If you can do it, then the Vios 3D can do it. However, at the same time this plane is a gentle and very predictable slow flyer.

The Vios comes with ready installed large one piece aileron for normal flight and with our new design you can cut the ailerons where marked and fly 4D (quad flaps) using four standard servos or with the included servo adapter trays you can use mini servos.
• All Laser cut Balsa and Plywood construction
• Covered with hand iron-on Oracoverฎ Film
• Pre-glued and pinned hinges on all control surfaces
• All hardware and accessories included
(glow engine mount and electric motor mount)

Engine and radio control not included!

Part # BH023
Price: US $ 119.99
SOLD OUT