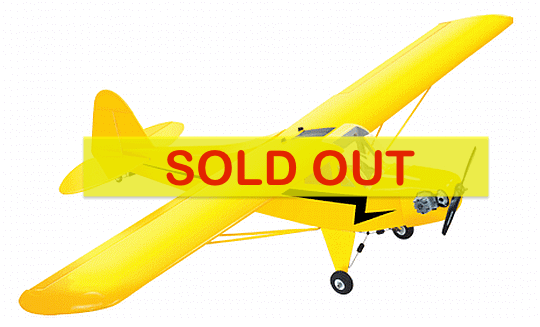 72"
6 lbs.
42"
698 sq."
Mega 22/45/3 12x6
AXI 412014 13x8E

4 Channel
5 Servos
If you are looking for an "Almost Ready to Fly" R/C model, which is easy to assemble and exciting to fly, the Piper J-3 Cub is for you.This high wing semi-scale was designed from the start to handle any kind of aerobatic maneuvers. It loops, rolls, flies inverted, and is capable of many more magical moves. It's a flying cocktail of performance. The Piper J-3 Cub, with its semi symmetrical wing section, makes this ARF easy to fly, and will have you well on your way to becoming an expert flyer.

Click here for details and instruction on how to convert this plane to electric.
• All Balsa and Plywood construction
• Covered with hand iron-on Oracoverฎ Film
• Factory painted fiber glass cowling
• Scale details: landing gear, bungees, wing struts, cub wheels, and dummy engine head
• Pre-glued and pinned hinges on all control surfaces
• All hardware and accessories included

Motor, battery, speed controller and
radio control are not included!

Part # BH004
SOLD OUT